Each year, the big technology companies hold their conferences announcing the latest and greatest solutions for the market available in the future, but every once in awhile that new technology surprises everyone and is available that day.
In the digital marketing world, we often hear about "sneak peeks", "future integration", and "shipping next quarter" but it is not very often that something hits the market that wasn't really known about ahead of time and is available the day it is announced.
At Google I/O this year, Google pulled a fast one on the analytics industry. We got a new product! Well, kind of a new product. In late 2014, Google acquired the company Firebase "to help developers build better real-time apps." At the time Firebase was a competitor to Facebook Parse and everybody essentially wrote it off as Google buying their way into a space to compete with Facebook. Fast forward a year and a half, today Google welcomed Firebase Analytics to the Google Analytics 360 Suite of products.
Firebase Analytics is intended to be the mobile analytics replacement (in most cases) for Google Analytics, but there is so much more included with the product. Firebase Analytics is one piece to the Firebase puzzle, which includes mobile messaging, Android device testing, user acquisition, and a dozen additional features.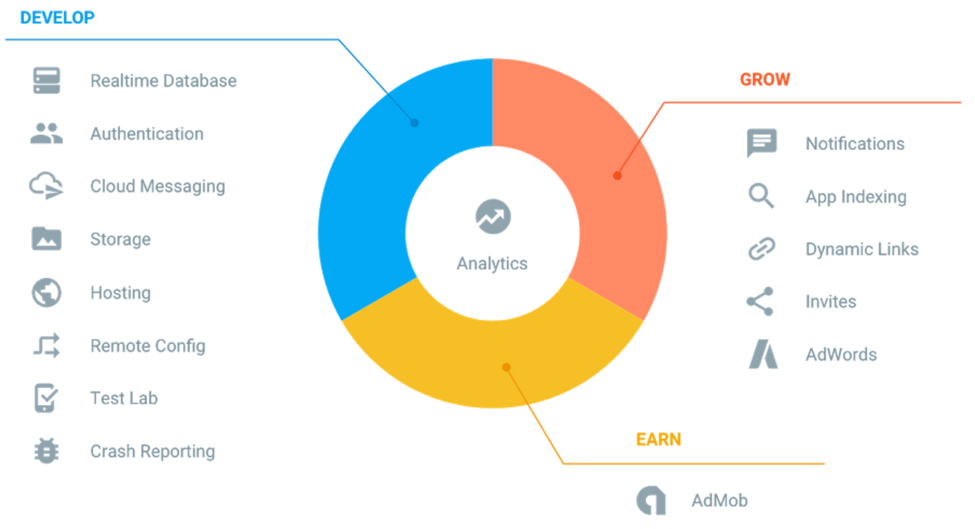 In chatting with my compatriots in the industry their immediate question was "Why? Google Analytics already works for mobile apps."
They are correct in questioning why we need another solution, but often people forget that it isn't always about adapting a current product to a new market – sometimes you just need to start from scratch. Firebase is exactly that for the Google Analytics 360 team.
Firebase is an event driven, extremely fast, mobile-first product. Something that the Google Analytics that we know and love today just isn't, even with Universal Analytics. While you can get your Google Analytics data out using 3rd party tools, or if you are a Google Analytics Premium customer it can be exported to Big Query, Firebase allows you to export to Big Query and other destinations – including Amazon Web Services S3! For you RedShift fans out there this is awesome news.
In addition to event based analytics, Firebase also provides:
Automatic measurement / tracking for specific conversion actions
Attributes to help enrich events
User properties, include a couple automatically generated
Audience-level reporting
Attribution for 1st and 3rd party networks (deduplicated)
Conversion postbacks to outside networks
Native AdWords conversion tracking
LTV reporting
Cohort analysis
Event-based funnels (any which way you would like)
Raw data export
And, of course, tightly integrated with all the other Firebase features
Firebase is now Google's most comprehensive app analytics solution, so app-only companies should use the Firebase platform and Firebase Analytics. But, if you're a company with both websites and apps, you should use both Google Analytics / Analytics 360 and Firebase Analytics together. You can absolutely mix and match Google analytics product based on the unique needs of your business.
If you are an app-first/only company, having one place to understand user behavior, create segments, understand where your money is being best spent, and being able to communicate and engage with your users is vital to your business.
As the appification of the Internet continues, I personally wouldn't be surprised to see Google migrate the current Google Analytics product to adopt the heart of Firebase. The simple fact is, "pages" as they once existed are going away, businesses are moving to event based analytics, and the underlying technology in Firebase is certainly more performant than Google Analytics after years of incremental improvements.
Firebase is still brand new and there are just a handful of reports from companies lucky enough to use Firebase Analytics early, and there certainly are not any conclusive comparisons between it and vendors such as Adobe Mobile Services, Mixpanel, Localytics, or other mobile specific vendors readily available. At the surface though Google looks to have all the boxes checked for what I've seen companies looking for, and certainly at an attractive starting price – free!
As the saying goes; fast, good, and cheap – pick two. Google seems to have given you all three options for mobile marketing.
We look forward to continuing our relationship with Google and working with our clients to take advantage of the Google Analytics 360 Suite. We are excited to see how Firebase Analytics and the other products in the suite continue to grow.
---
This post was originally published by me on the Search Discovery Blog here: http://www.searchdiscovery.com/blog/mobile-dominance-google-announces-firebase-analytics/